Printhie Winemaker's Invitation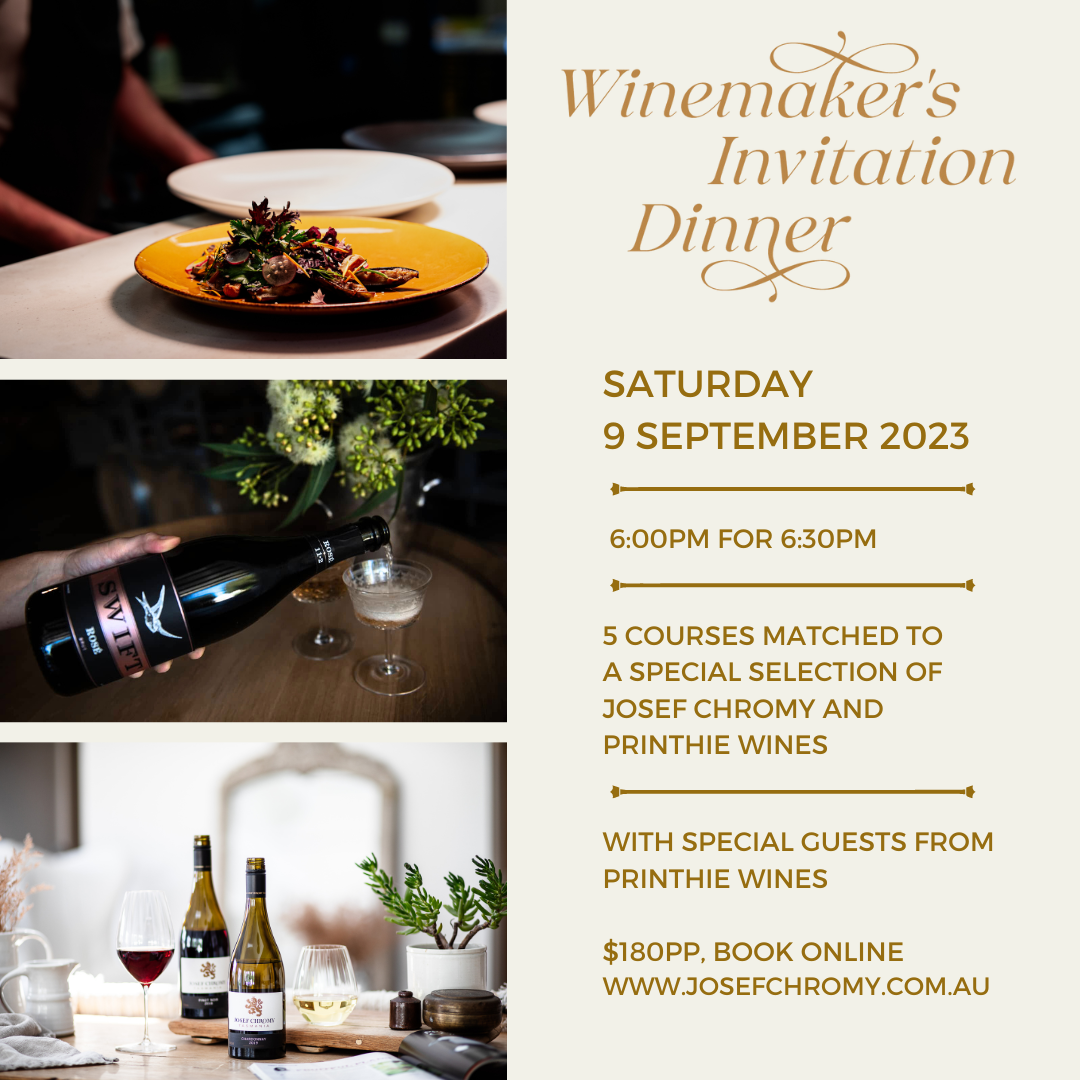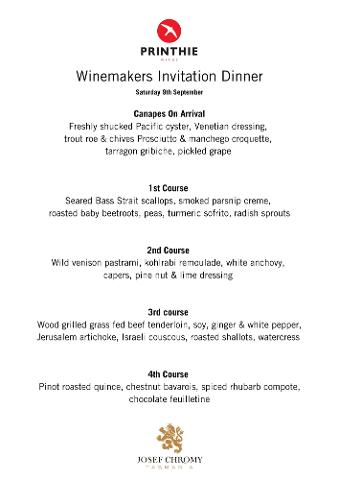 Duration: 4 Hours (approx.)
Location: Relbia, Tasmania
Product code: PWMI
Printhie Winemaker's Invitation
Printhie Wines, from the spectacular Orange Wine Region of NSW will be visiting us on Saturday 9 September for our annual dinner event, bringing a touch of that high elevation experience we just can't get with our Tassie wines!
Head Chef Nick Raitt will be sourcing the freshest seasonal produce, reflecting the springtime vibes in Tassie, matched to a combination of Josef Chromy and Printhie Wines.
Five delicious courses include wild venison, grass fed beef, Pinot roasted quince and Bass Strait scallops, served with warmth and heart at Josef Chromy Restaurant.
While we want to keep some surprises for our special guests on the night, we can promise a glass of our very limited Chromy 2022 Chardonnay and the best sparkling in NSW Wine Awards for 2022 (hint: it's the Swift 2011 Blanc de blanc!)
PRINTHIE VINEYARD
Planted in 1996, the 12 Ha Printhie vineyard nestles up to the winery and cellar door. Planted on a elevated north east facing site on the undulating hills of the property, this vineyard produces highly coloured and flavoured fruit. With the extinct volcano of Mt Canobolas as the picturesque backdrop this vineyard has ancient limestone derived soils making it perfect for the red varieties of Pinot Noir, Merlot, Shiraz and Cabernet Sauvignon as well as Pinot Gris that call this vineyard home. Learn more about Printhie and the Orange Wine region: Printhie Wines
Josef Chromy Wines
Our winemaking style is founded on producing wines that show a true 'sense of place' and celebrate the individual characteristics of each vintage. To ensure the integrity and delicate characteristics of the fruit, the grapes are received and vinified in Tasmania's most advanced winery, employing state-of-the-art technology for traditional winemaking techniques.
It is the careful attention to detail from vine to glass that is paramount to optimizing wine quality and giving the wines their point of difference. Working hand in hand, the vineyard team, led by Viticulturist Kellie Graham and Vineyard Manager Felipe Bustamante, and winery team, led by Chief Winemaker Ockie Myburgh plan for balance of fruit flavour, natural acidity, tannin, structure and texture. Every effort is made in the vineyard so that minimal intervention is required in the winery, allowing the subtle and delicate flavours of our cool climate vineyard to be expressed to their full potential. Learn more about the Josef Chromy winemaking and restaurant here: Josef Chromy Wines